PROMOTIONAL PRODUCTS DO WORK
Still unsure if promotional products are right for marketing your company? Let the research do the talking...
A recent study conducted by the BPMA found that promotional products, when compared to other advertising mediums such as TV, print, online and direct mail, motivated over half (50.7%) of us to take action. In fact, promotional products make almost six times as many people feel appreciated and over three times as many loyal to a brand. Furthermore, nearly two-fifths of us will more than likely use a company that has given us a promotional product, over one that has not given us anything.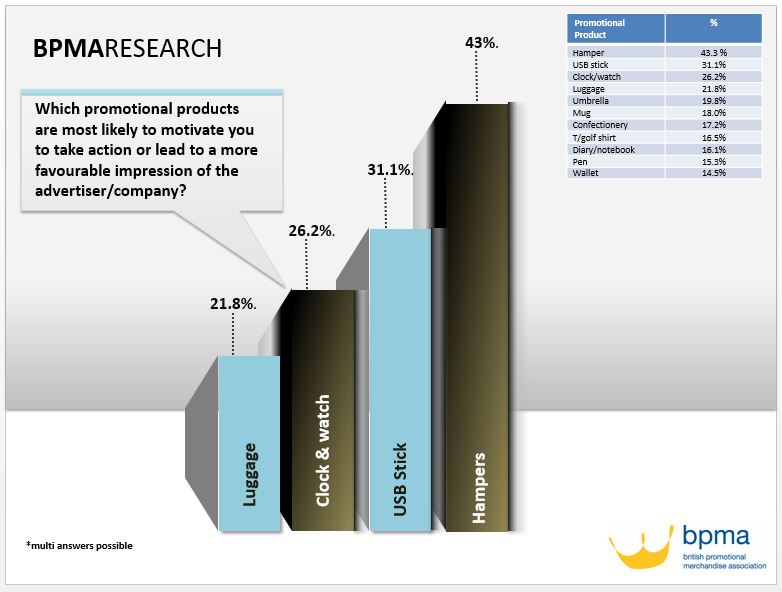 Of the many items above that inspire customers to take action, Hampers are the promotional product that has the most influence over people. It was found that those who send gift hampers create a more favourable impression of the company in the customers mind. While USB's are the second most favourable product, they are the promotional item that is kept the longest. In fact, two –thirds of us will keep a promotional product for over six months, while 44% will keep them for over a year. BPMA's research found that items kept for at least a year included USB sticks (63%), coffee mugs (60%), umbrellas (51%), clocks and watches (48%) and pens (43%).
A key thing to point out from the items above is that of the relevancy these products have in a person's day to day business life. Over half of respondents (54%) said that they would only go and get a promotional product if the item was useful. Of those items deemed useful, it was mugs (47.1%), pens (47.1%) and USB sticks that enable us to recall an advertiser or message.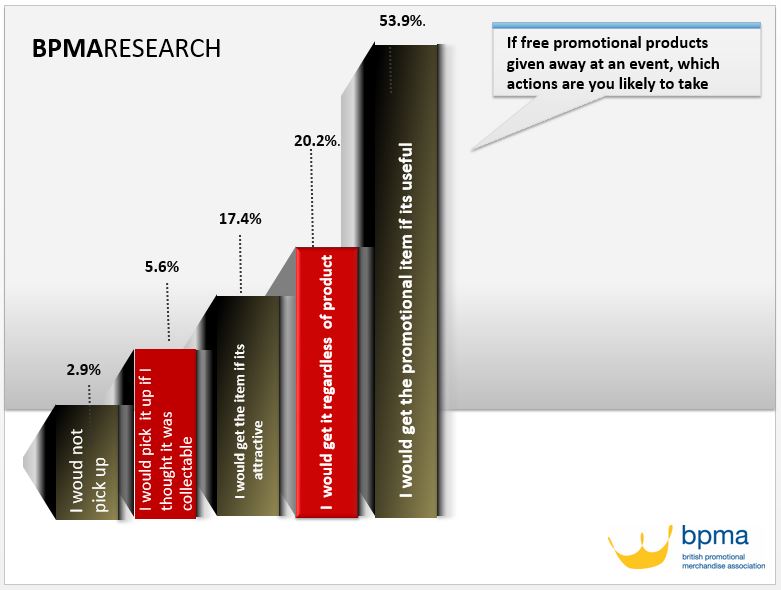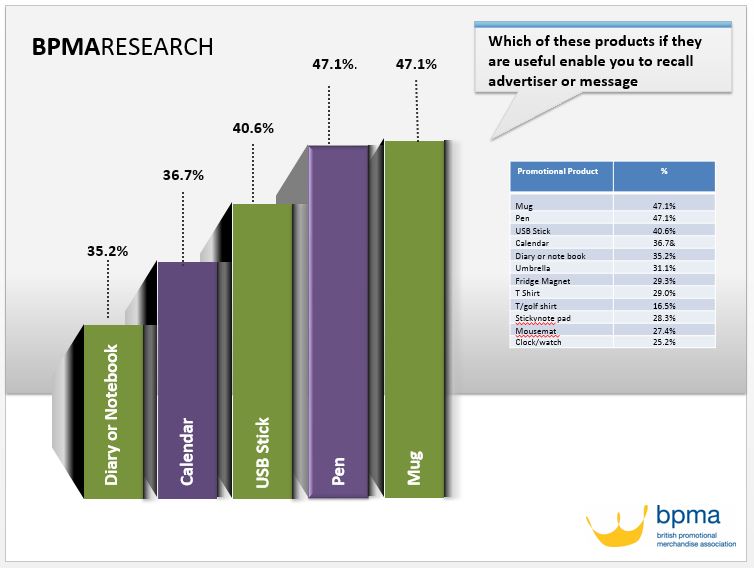 Interestingly, 94% of people when given a promotional product do not forget the advertiser or the product being advertised even after having the item for over six months. Despite TV (39%), 35% of people believe that because of their constant use, promotional products are the best medium for keeping the product, brand or service being advertised at the forefront of the customer's mind. While 53% of us will have at least three or more promotional items on our desk or in our office at any one time, 98% think promotional merchandise is not a waste of money, and half of us would actually like to get promotional products more often.